Three in ten families have lost money to internet scams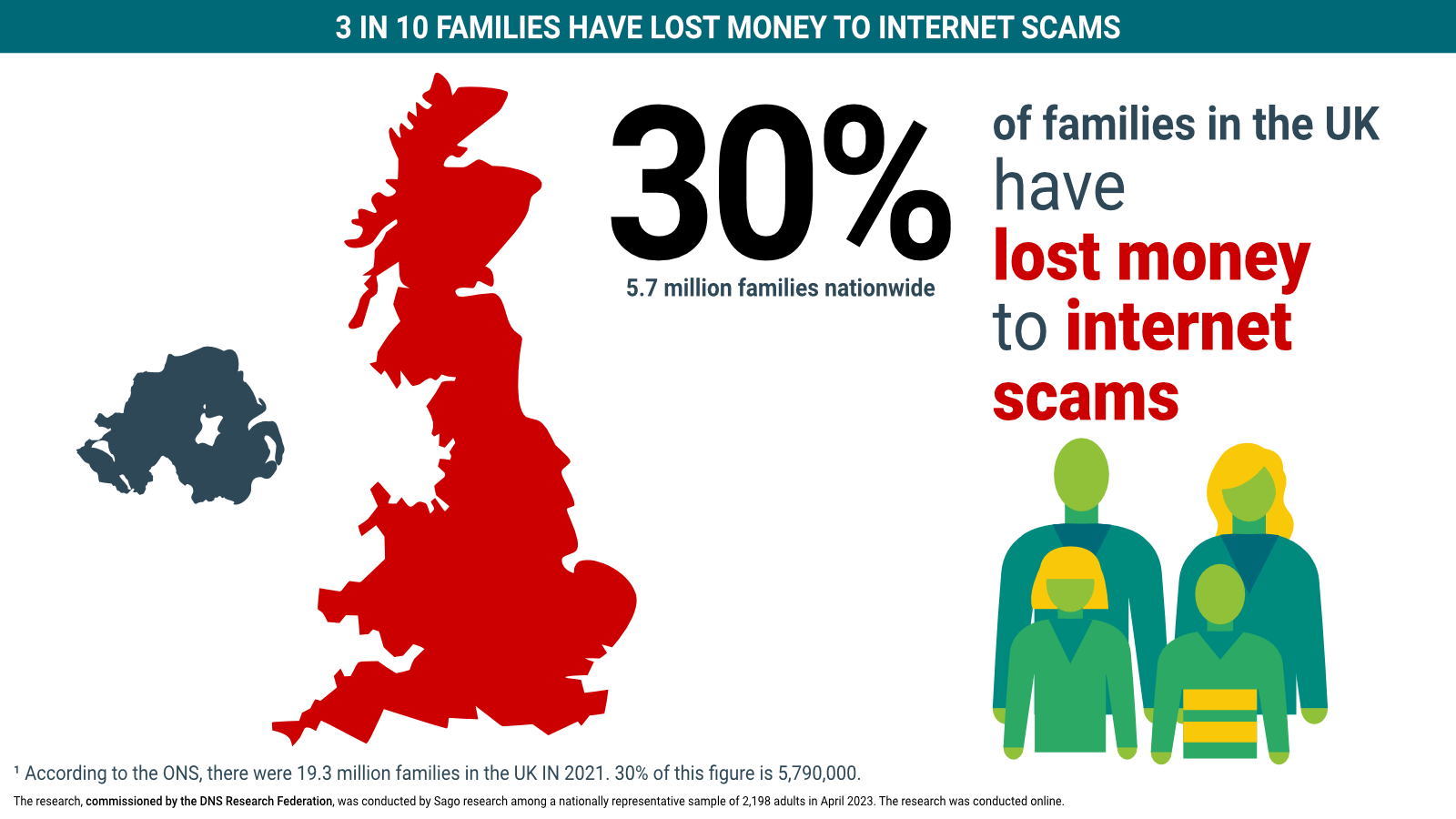 The prevalence of internet scamming has been revealed today with new research by the DNS Research Federation revealing as many as 30% of families in the UK have lost money to internet scams – the equivalent of 5.7 million families across the country [1] . The survey of more than 2,000 people nationwide asked respondents about their own, their partners' or other family members' experiences with cybercrime.
Beyond those that had lost money to online scammers, 36% of people said they had been targeted by scammers, while a further 28% said that their partners had been targeted and a further 40% said other family members had had an experience of Internet crime. In addition, some respondents mentioned neighbours (29%) and work colleagues (38%) that had been targeted by Internet scammers.
Since the pandemic, the Internet has dramatically changed the way we shop and transact. An estimated 93% of Brits were using online banking in 2022 [2] and the run of household names going into administration in recent years indicates the Internet's dramatic impact on the high street. Set against the unprecedented rise of the Internet, fraud and computer misuse offences increased by 89% in the two years up to 2022 [3] - and today's new figures from the DNS Research Federation give an indication of the scale of the problem in Britain today.
Families in London and Scotland were the most likely to say they have been targeted by Internet criminals. In London, 46% of those who had been targeted by online scammers said they had lost money. This was followed by families in the Midlands (32%), and in Scotland (26%). For those that had been scammed, the average loss was £1,169 per person. Londoners were also likely to lose more money than in other parts of the country, where the average rose to £1,245. This was almost double the amounts lost by families in other parts of the country, such as Northern Ireland (£693).
Younger people for more likely to have been targeted
Looking specifically at individuals who had experienced cybercrime, the results showed that younger people were far more likely than older people to the victim of Internet crime. More than two-thirds (68%) of people aged under 25 said they had been targeted. The results showed that the likelihood to have experienced cybercrime steadily declined with age, gradually decreasing to 28% of people aged over 65. However, while younger people were more likely to have experienced cybercrime, they were also more likely to have spotted a scam and pulled back before any damage was done. Proportionally, young to middle-aged people appeared to be most at risk. Around 56% of people aged between 25 and 44 who had been targeted had fallen victim to a scam of some sort themselves, either losing money or having their identity stolen.

Emily Taylor, Chief Executive at The DNS Research Federation commented: "We have reached a point where cybercrime has become so endemic within our society that most families in the UK have been a victim to it in some shape or form. Our own data suggests that the average amount of money Brits lose to online scams has hit a national average of £1,169 per person, with 7% claiming to have lost more than £7,500 to scammers. This is an unacceptable situation; it is wrong for anyone to accept the prevalence of Internet crime as normal and no one should blame themselves for falling for a scam."
"At the DNS Research Federation, we are passionate advocates of the Internet's power to do good and improve society. But we have to set the bar higher so the Internet's power to deliver wonderful outcomes outweighs the perceived risks posed to people's safety and freedoms. A not-for-profit and with no angle – we are an independent, objective organisation that believe passionately in a better future for the Internet. There is seismic and urgent work to be done to tackle crime, to empower consumers, to shape policy and improve standards for the benefit of everyone. We invite the major brands and policymakers that benefit most from the Internet to join us in protecting the future of the free and open Internet."
For more information on DNS Research Federation or to request interviews with Emily Taylor, contact: elephant communications
Guy Bellamy / Jim Follett- elephant communications
07766 775216 / 07908 551571
Notes to editors
The research was conducted by Sago Research Group UK for DNS Research Federation in April 2023 among a representative sample of 2,151 adults.
About the DNS Research Federation
The first organisation of its kind, The DNS Research Federation is a not-for-profit organisation that sits at the intersection of policy and technology. With a mission to advance the understanding of the Domain Name System's impact on cybersecurity, policy and technical standards, the Federation funds research, engages in technical standards, and brings technical tools and objective data relating to the internet's unique identifier systems - especially the DNS - to researchers, public safety and industry stakeholders. Exploring the linkages between traditional internet governance, the strategic importance of technical standards, and contemporary policy challenges, the DNS Research Federation connects up islands of scholarship and communities of expertise. The Federation gives a voice to the data and is inviting collaboration and partnership from key stakeholders from all aspects of the DNS ecosystem to participate as partners and supporters.

[1] According to the ONS, there were 19.3 million families in the UK IN 2021. 30% of this figure is 5,790,000. https://www.ons.gov.uk/peoplepopulationandcommunity/birthsdeathsandmarriages/families/bulletins/familiesandhouseholds/2021
[2] https://www.finder.com/uk/digital-banking-statistics
[3] https://www.ons.gov.uk/peoplepopulationandcommunity/crimeandjustice/articles/natureoffraudandcomputermisuseinenglandandwales/yearendingmarch2022

Related Topics
About this News Release
File size
18k
Categories
Cybercrime , Consumers
Thumbnail (not licensed for release)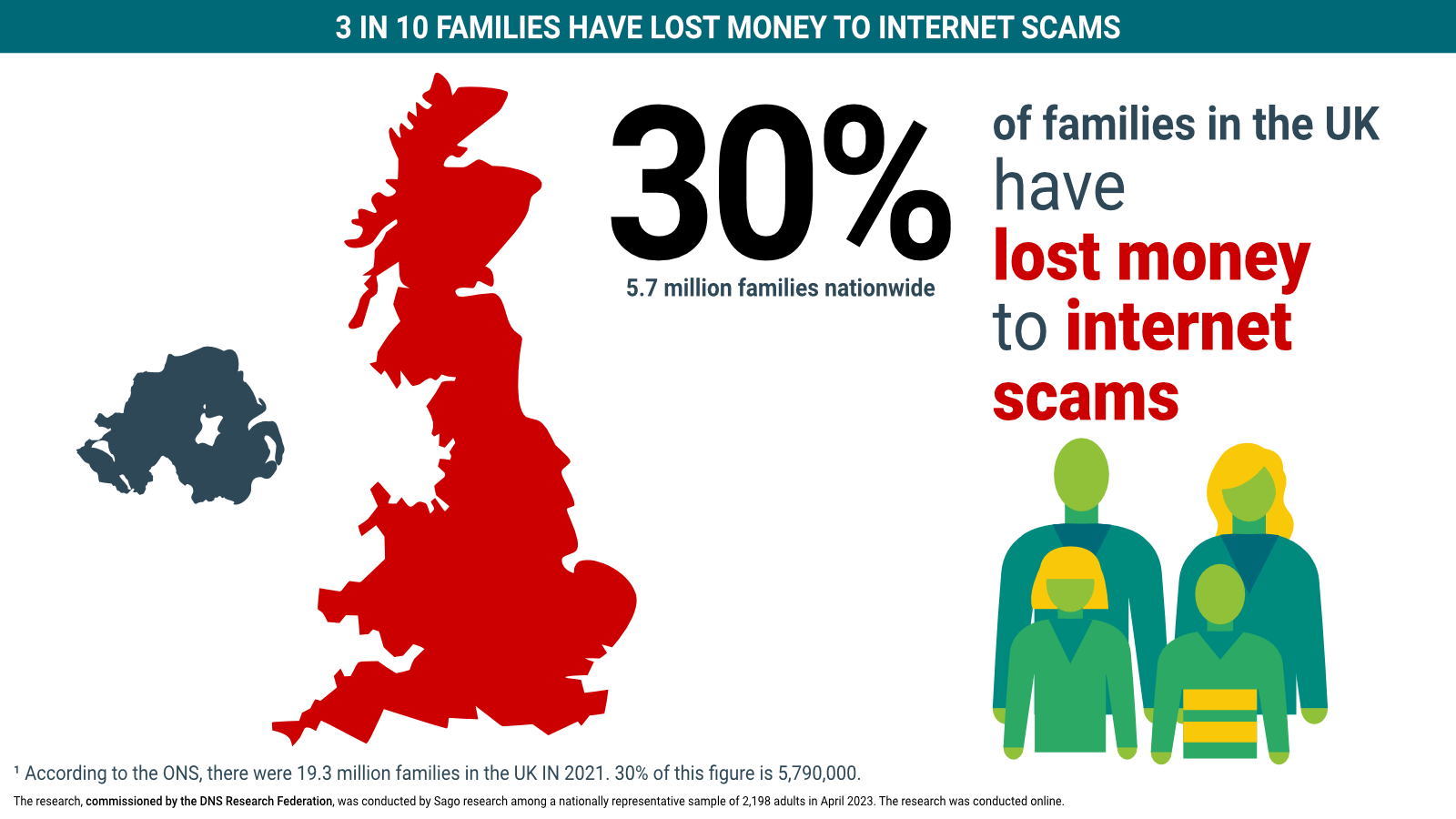 Related